Welcome to Kabira's Gallery
Biography
It all started with a drawing that I did when I was three years old and proudly called 'Dad The Telephone'. Big receiver coupled with two eyes surrounded by spectacles for a dial and a curly moustache that turns into the spiral cable created a character that was, really, nothing like my dad. From then on, I could not stop drawing – paper, walls, napkins, anywhere and everywhere became my drawing surface; I saw people, made up characters and created scenes – I was in a rush to register everything that was going on around me. One of the many challenges for a three year old included stealing eyeliner from my mom's makeup bag when I could not find anything to draw with, to scribble on the tablecloth at a dinner party we would be attending as a family… I drew what I saw and what I didn't see; interpreting life around me through drawing became an integral part of me.
My greatest mentor, Katana Gazi Sharifova, took a chance on me when I was only four, and took me in to study at the well known children's gallery in Baku, Azerbaijan. At the age of six I had my first personal exhibition, and was described as the youngest artist in the country to have had her own show. The second personal exhibition followed when I was ten, along with various prizes for regional and international children's art competitions. My work grew throughout my life and studies as our family moved from Baku to Istanbul, Turkey, and then to London, England.
Whilst at school I have discovered a new interest in life sciences and have then completed degrees in biology and molecular medicine. The natural world became an inexhaustible source of inspiration for me and is slowly setting the stage for where some of my work may be heading. At the same time, nostalgia for Baku, my birth place, infiltrates a lot of my work, strengthening my identity as an Azeri contemporary artist and sharing my roots and culture with the rest of the world.
Past Exhibitions
2009 Summer Salon, Islington Arts Factory, London
2009 NICOLA Youth Festival, Earl's Court Exhibition Centre, London

2009 Bow Arts Trust Open Studios, Bow, London
2009 Pass:on by Slow Motion Thoughts Productions, Stephen Lawrence Gallery, Greenwich
2009 Art Show Zurich, Zurich West, Switzerland
2009 Pax Republic Convention, Zygote installation painting, Blackie, Liverpool

2009 Kapricornian Voyage, The Crypt Gallery, Euston, London
2008 Azerbaijan House opening ceremony, Shoreditch, London
2008 Vitreous Tales, St Mary le Bow Church, St Paul's, London
2008 Master Lounge, Marylebone, London
2007 Christie's Charity Staff Auction, King St, London
2006 Drawn From Experience, Homestead Gallery, Clerkenwell, London
2006 The Inspired Art Fair - Prelude, Spitalfields, London
2001 Young Azeri Artists' Exhibition, Humay Gallery, London Bridge, London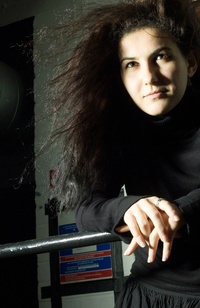 Contact